If you are considering Invisalign® vs. braces, the doctors at Shemen Dental Group in Amarillo, TX, can recommend the right way to achieve a straighter, healthier, and more attractive smile. The right treatment solution will depend heavily on the extent of treatment you need, as well as your cosmetic concerns and lifestyle. Because both options have their own advantages, Drs. Eddy Sauer and Nathaniel Avirett take plenty of time to help patients make the right choice.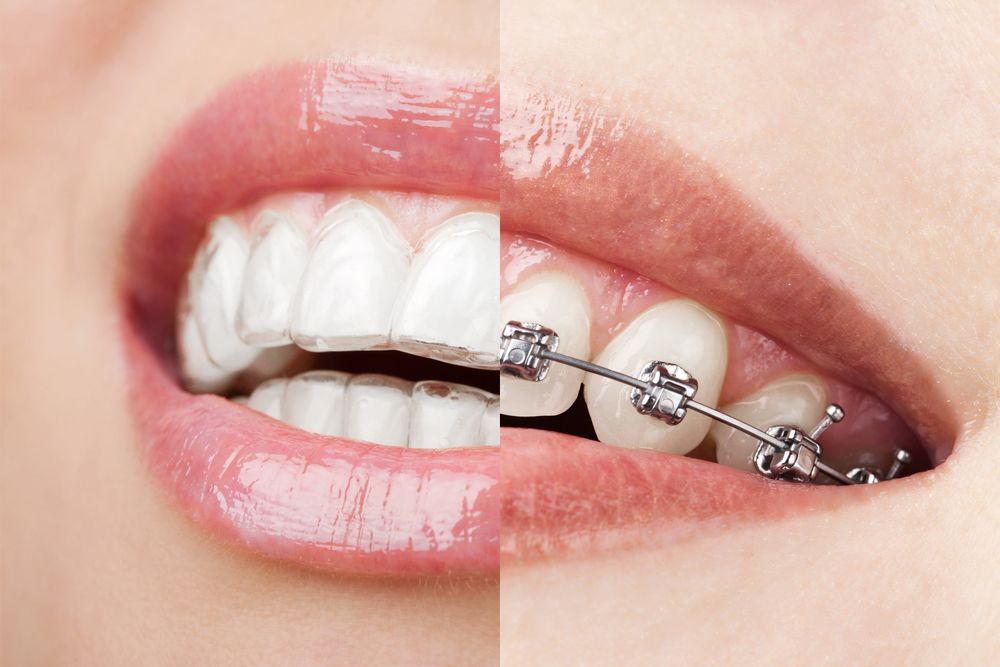 Key Differences between Braces and Invisalign
Although the basic principles of both treatments are similar, they have several unique characteristics:
Candidacy
It is important to note that Invisalign will not be the ideal treatment plan for every patient. While the aligners are customizable and can treat many different types of misalignment, they are intended for mild to moderate orthodontic concerns. For more complex cases, especially those that require major realignments of the jaw, traditional braces may be recommended.
Hardware
While braces use fixed metal hardware, Invisalign aligners are removable. As a result, Invisalign involves no dietary restrictions, and brushing and flossing can be performed as normal.
Treatment
Braces must be periodically tightened at the orthodontist's office. The rubber bands, or O-rings, are removed, along with the wire, and then replaced at a graduated tension in order to guide teeth into proper position.
It is important to note that Invisalign will not be the ideal treatment plan for every patient.
Invisalign uses a series of aligners that are each worn for one to two weeks before moving to the next aligner. Each aligner is slightly different and fully customized to apply the necessary pressure.
Timeline
With both Invisalign or braces, your treatment timeline will depend on the severity of misalignment, as well as how efficiently your teeth respond. Younger patients are likely to need shorter treatment plans since teeth are more easily repositioned at this time in their lives. A typical treatment timeline with braces is two years or longer.
Invisalign can be a faster method than braces, especially if you qualify for Invisalign Express. Depending on the extent of treatment needed, Invisalign can provide results in half the time required using braces. However, more severe cases may require 18 to 24 months.
Cost
Traditional braces can cost from $4,000 to $10,000. This cost is affected by a variety of factors, including the type of misalignment being treated and any additional preparatory procedures required for successful treatment, such as extraction.
The cost of Invisalign at Shemen Dental Group varies as well. However, it typically ranges from $3,900 to $5,300. We offer a variety of special Invisalign bundles that include complementary procedures to allow our patients to make the most of their Invisalign treatment.
Many insurance plans will contribute to the cost of both braces and Invisalign.
Daily Care
The results of both treatments are contingent upon your compliance with required behaviors. Invisalign aligners must be worn for 22 hours a day and cleaned after every meal. Patients must also take care to avoid losing their aligners as replacements may increase the cost and duration of treatment.
Braces can require the application and removal of rubber bands before and after meals. They also require adopting special brushing and flossing techniques that will not interfere with the hardware. These techniques are more involved than normal brushing and flossing, and patients should budget ample time for these practices every day.
Make an Informed Decision
You can depend on Shemen Dental Group to only recommend the treatment we believe is the best fit for both your needs and preferences. Contact our office online or call us at (806) 358-2472 to schedule a consultation and learn more about your orthodontic options.
"The staff at Shemen Dental Group treat you like part of the family. Every visit has been positive, and everyone goes out of their way to make you feel valued and comfortable."

Randy D.